Dog Park
15 Acres of Off Leash Fun!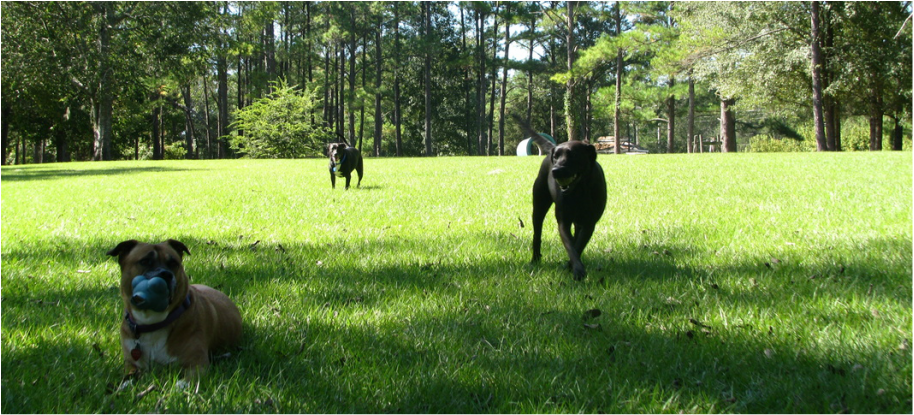 Your dog gets 15 acres of park like setting to play leash free. There are two ponds and plenty of shade to cool off with. We provide a safe a secure dog park environment for you and your dog to play and socialize. We are a member based park, however we are open to the public. Non-members may enter the park through our office during office hours (M-F 7am-6:30pm, Sat 9am-6pm, & Sun 1pm-6pm). You will need proof of current Rabies, males over 7 months must be neutered, and pay a day use fee of $12 +tax. The fee is good for all day, but you must access through the office. If you visit more than three times a month, then becoming a member makes more sense. See becoming a member below.


Becoming a Park Member
Becoming a member is easy and very affordable. The following steps guide you through the process:
1. Fill Out Membership Application: You can do it at our office or we can email you a copy. This allows us to set up you account so be sure we have a good contact phone and email along with your current vet info.
2. Pay Setup Fee and First Month Dues: There is a $40 one time setup fee. If you paid to visit the park the day you sign up, we will deduct your day use fee from your setup fee. Then you pay your first month up front based on the type of membership you choose. Examples with fees listed below.
3. We issue you a Key Fob: You get a key fob that allows you to access the park via the electronic member gate located in front of the office. This gives you access based on the membership you choose during all daylight hours without having to go in through the office.
4. Go enjoy the park: You can now enjoy the park. If you bring guests with dogs, they must sign in and pay a discounted day use fee ($6 + tax). You are responsible for your guests and their actions. You dues will be billed to your credit card automatically each month.